Twenty years ago, the business case for sustainability was big. Within a business context it was often necessary to justify why pursuing sustainability was important, worthwhile and how much it would cost.
It gets less visibility now, but it is still common to see the symptoms of not having a good business case, or one that's not widely implemented.
More noise than transformation
Sustainability in business is now commonplace, it's a normal part of doing business so it is not seen as being radical or ahead of common practice.
Except it isn't.
There is still only a minority of businesses doing sustainability well or in a meaningful manner. Some have good intentions but struggle to get their initiatives moving or keep developing them.
Others are doing components very well – but fail to focus on the material (priority) issues. For example, they might focus on employee engagement, recycling or philanthropy (all important issues) but not the huge impacts arising from their business model/supply chain.
So, while the business case has assumed a lower profile the need for it, in different forms, is still very much present.
What is a business case for sustainability?
So, what is a business case for sustainability? Is it always financial, rather dry and technical and best assembled by economic analysts?
Or is it a business focused approach to 'doing the right thing'?
In practice it can be either or both and it depends upon the emphasis and more importantly the ambition behind the business case.
Defining different business case types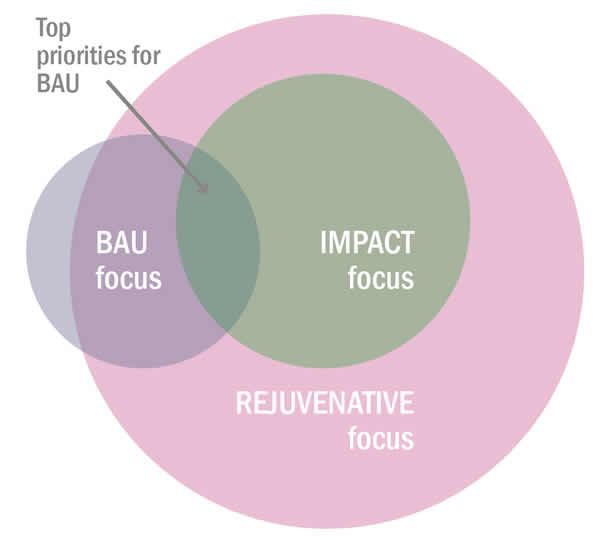 The nature of the business case depends largely upon the 'lens' you are working through. Here I suggest three possible lenses for the business case for sustainability. Of course, these are generalisations, but they can be seen in everyday practice. I've also given nominal scores on different related aspects of performance to allow exploration (a higher score represents better performance – i.e. a higher risk score represents better risk management).
BUSINESS AS USUAL Lens | mainly current financial focus
This follows the rationale of 'what is the best we can achieve within financial constraints?'
The BAU Lens is where organisations often begin, it's focused around changing little but seeing where sustainability, responsibility and ethics can be squeezed in or added on.
It tends to represent an incremental approach to change and some possible solutions and activities are ruled out on financial terms.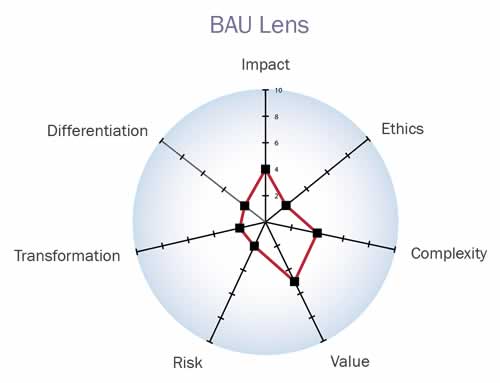 IMPACT Lens | changing business focus
This asks 'What is the best we can achieve?' and therefore 'what it is the business case for delivery?'
The Impact Lens is more ambitious. It is arguably a more ethical approach, based upon more realistic harm reduction. As a result, it is more likely to produce greater business advantage and risk reduction. However, it is likely to be more complex and difficult.
It tends to represent a more transformative approach, possible solutions and activities are ruled in on impact terms, financial aspects are often adapted to accommodate.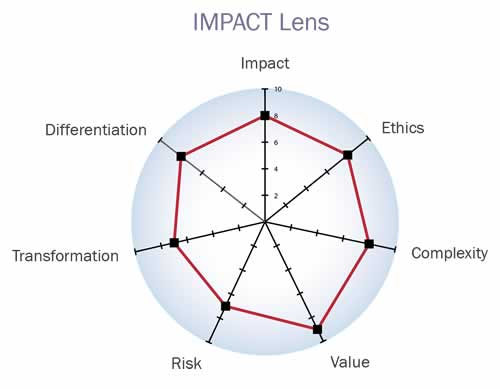 And emerging is a third version…
REJUVENATIVE Lens | transformative business focus
This aims for and beyond sustainability, for removing negative impacts and creating positive social and environmental utility. Driven by a true understanding of sustainability context, this aims for a truly and often radically transformative agenda.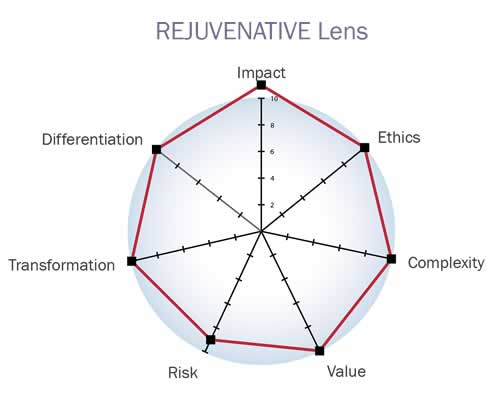 How do different case types differ?
Which business case approach you pursue will depend upon your business's strategy and level of ambition. Many businesses start with an incremental approach and lean into a more transformative agenda. As awareness and expectations of environmental dependencies grow, limited, incremental approaches are less likely to bring the changes needed or lasting business advantage.
If we look at the mainstream definition of a business case – there's one key aspect that's often overlooked – it should consider the costs and risks associated with business as usual. For ease, psychological bias and practical reasons the risks associated with apparently doing nothing, or maintaining the status quo are often downplayed.
Where sustainability continues to be seen as a cost rather than a source of value, this is likely to persist. Until that's overcome a more financial lens will continue to be the norm.
DISCOVER MORE | Sustainable Business
Most major sustainability issues have important risk dimensions for companies – and societies. In many cases these are still not adequately represented in board-level discussion, company risk assessments or registers.
WEF's Global Risk Report provides a very useful, comprehensive global review and …