UPDATE – See Trends and issues in sustainable business 2020 >>
---
"I never am really satisfied that I understand anything; because, understand it well as I may, my comprehension can only be an infinitesimal fraction of all I want to understand."
Ada Lovelace
What will be the sustainability trends in 2018?
What will be the sustainability trends in 2018? The last few years have been, not to understate it, somewhat unpredictable. While in this context it might seem rather difficult to make predictions for 2018, we believe a number of key sustainability trends will continue to influence organisational practice.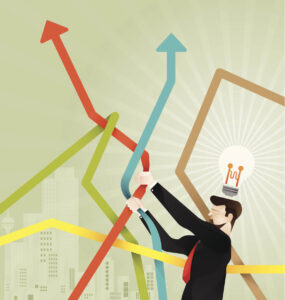 Some of these sustainability trends are of course not new. Many of them build upon those we highlighted last year, 2017 – top trends in business sustainability you need to see, representing a continuation of issues and themes that have been building in recent years. However, there is often a lag between the recognition of an issue and that issue being translated into corporate management priorities which might give rise to changes in behaviour.
Below, we provide a brief overview of new and building trends that we think will grow in relevance for business sustainability in the coming year, as well as highlighting some questions to consider when focusing upon the sustainability of your organisation:
Carbon reduction
Plastics & ocean pollution
Global mega trends
UN Sustainable Development Goals (SDGs)
Sustainability Reporting
Taxation
Carbon reduction is stepping up
Despite the US Government exiting the Paris Agreement it looks like many US states and companies are moving forward with plans for action both on carbon emissions reduction but also accelerating renewable energy production.
Alongside this, investors are getting in on the act, increasingly moving away from fossil fuel funding. For instance, at the One Planet Summit on 12th December 2017, the World Bank committed itself (among other things) to cease funding new oil and gas exploration from 2019. It was joined in this declaration by announcements from both the insurance company AXA and the bank ING, that they would be divesting from fossil fuel projects, with a particular focus upon reducing their exposure to coal.
Beyond company undertakings, some countries are also making commitments to reduce fossil fuel dependency. The UK Government made the headlines in 2017 with its decision to ban the sale of diesel and petrol cars from 2040. Some commentators have suggested that this simply allows the UK to appear progressive while essentially delaying a problematic transition for future governments. It could also be said that their commitment provides a clear picture of the need for more sustainable transport over coming decades. In contrast to the UK Government's rather mixed approach to new fossil fuel discovery (the 2017 UK Autumn Budget also gave tax breaks to new North Sea oil exploration), on 19th December 2017 the French Government passed legislation to ban all exploration of oil and natural gas in its territories by 2040. However, while 2040 still feels a long way off, France has also pledged that existing drilling permits will not be renewed when they expire, and no new exploration licenses will be granted, with immediate effect.
Questions to consider
The world is moving to renewables – what is your dependency on non-renewable energy and what are your plans to go fossil free?
Do you use diesel and what are your plans to ensure a transition to cleaner fuels or the latest technologies? Read more on the air quality issues with diesel.
Solar and wind generation is becoming cheaper and more reliable, especially when combined with energy storage solutions, how is your company exploring the opportunities to generate your own energy or to contribute towards local or distributed generation capacity?
How exposed is your business model to climate change risks? If you depend upon global supply chains, and especially if you have biological supply chains (food, drink, natural yarns etc.), the countries you source from will be increasingly impacted by water availability, social and demographic shifts and political instability arising from accelerating climate change.
Plastics & ocean pollution
The issue of plastic pollution is gathering pace. BBC's Blue Planet 2 provided a shocking insight into the sheer scale and extent of how plastics have entered ecosystems even in the most remote parts of the world. Plastics are entering food chains, with birds and animals mistaking plastic for food and it being found in the guts of animals even at 36,000 feet down, at the bottom of the Mariana Trench. Governments are starting to respond: in the UK, a ban was introduced on plastic microbeads in cosmetic products, with an extension to other products. For an overview of the actions that have been taken so far by governments across the world, Beat the Microbead presents a timeline.
Companies have also been engaging in activities to tackle the issue, from Adidas' plan to make more than 1 million shoes from ocean plastic, to Interface's work with fishing communities in the Philippines to provide them with additional income in collecting ocean plastic waste for use as a recycled feedstock for their 'Net Effect' floor tiling products. Other corporate focus for ocean plastics is upon the development of circular industrial and economic processes. Plastics are extremely useful, high-performing and lightweight components in many technologies, products and infrastructure. With something so vital to modern life as we know it, wouldn't it make more sense to retain such material within our systems of production, so that they can be recycled and remanufactured, rather than giving rise to pollution on such a vast scale? The Ellen MacArthur Foundation's New Plastics Economy Programme provides vital information on why and how we might develop new industrial models for the use and re-use of plastic.
Questions to consider
How do you use plastic and do you know what happens to it once it leaves your control?
Are there opportunities to innovate your approaches to make use of recovered plastic, how might this help reduce your impact and create new product differentiation? (for an insight into sustainability and competitive strategy, see sustainability; how does your business compete?).
Beyond just reducing your use of plastics, what can you do to play a role in wider, societal, waste plastics recovery?
More global mega-trends
Companies will be increasingly required to understand how global mega-trends such as climate change, demographic shifts, increasing inequality, water issues and biodiversity loss have relevance to their business models and strategic plans.
Such investigation should become a standard aspect of their strategic analysis and planning, representing key elements of their strategic context. Beyond a simple acknowledgement that the world is changing fast, companies will need to disclose the implications of such changes for their business and demonstrate how their strategies seek to minimise their contributions to the acceleration of negative trends and maximise their positive impacts through core business.
Questions to consider
The UN Sustainable Development Goals (SDGs)
As with most of these trends, 2018 will see a continuation and growth of activities from 2016 and 2017. For the UN Sustainable Development Goals, companies will increasingly need to understand and prove how their activities and strategies are located against the SDGs. In practice this will involve highlighting which of the SDGs have particular relevance to the business and how the company intends to contribute towards the achievement of the Goals while ensuring their activities do not undermine them.
Questions to consider
Do you acknowledge the UN SDGs in your strategic approach to sustainability?
Which specific SDGs have particular relevance to your business…which of them do you directly impact, either positively or negatively, and what can you do differently to play an active role in delivering the future we want?
Sustainability Reporting
Sustainability reporting is maturing. With the Global Reporting Initiative's (GRI) move from guidance to standards in 2016, companies using the standards will have to ensure that their approach to reporting makes the grade.
Reporting is also, slowly, making progress in getting on investors' agendas. Carbon and water remain areas of primary focus. However, there's an ongoing evolution of approach, moving from a requirement for companies to disclose their environmental and social impacts, investors are increasingly asking companies to tell them how these trends and impacts manifest as risk and exposure.
One such development which will start to shape disclosure on previously "non-financial" issues in the coming years was publication in 2017 of the recommendations for effective disclosure of climate-related financial risks by the industry-led Task Force on Climate-related Financial Disclosures (TCFD).
The Task Force members were drawn from business, finance, investment and insurance, and the recommendations were characterised by the Mark Carney (Governor of the Bank of England and Chair of the Financial Stability Board) as "developed by the market for the market".
The TCFD developed four recommendations on climate-related financial disclosures that are applicable to organisations across sectors and jurisdictions. The recommendations are structured around four thematic areas:
Governance: The organisation's governance around climate-related risks and opportunities.
Strategy: The actual and potential impacts of climate-related risks and opportunities on the organisation's businesses, strategy, and financial planning.
Risk Management: The processes used by the organisation to identify, assess and manage climate-related risks.
Metrics and Targets: The metrics and targets used to assess and manage relevant climate-related risks and opportunities.
Another trend in reporting we will see in 2018 is a move towards the further development of disclosure on social and natural capital impacts through more meaningful indicators of performance. At present companies tend to focus upon lagging indicators (this is how much we emitted last year) but will need to start adding some leading indicators (here is our relationship to the state and health of the natural capital we depend upon and to the resilience of the communities and societies we rely upon and sell to). Look out for our thinking on moving from lagging to leading indicators of sustainability in early 2018.
Questions to consider
Are you focusing your reporting upon material business impacts?
What best practice approaches do you use to guide your reporting…GRI Standards, IIRC or SASB?
How are you dealing with multiple capitals reporting, and do you understand your dependence upon healthy natural and social capital? For example, see context based sustainability and multiple capitals management.
How are you engaging your investors in your sustainability activities, can you demonstrate to them how sustainability minimises your risk and maximises your value creation?
How are you acknowledging and integrating the TCFD recommendations on climate change risk disclosure and communicating with investors how you understand, mitigate and manage your climate risks?
Taxation
Responsible tax has become ever more prominent recently, with news stories on corporate tax management grabbing headlines around the world. Judging how much tax a business should pay is of course immensely difficult, and the activities of the vast majority of companies is legal. However, in the public mind, there is a difference between legal and acceptable, and the more complex approaches adopted by some companies (e.g. placing company Intellectual Property in 'conveniently' low tax territories) is increasingly seen as artificial and ethically problematic. The challenge though, is that it is tax revenue that allows countries to build social capital (roads, healthcare, education – useful stuff like that) which in turn supports the work forces, consumer base and intellectual capital that companies rely upon. Aggressive tax planning is more likely to be seen as evidence of an extractive approach – taking the benefits without paying the costs of doing business. Companies which can demonstrate how they provide genuine social utility should be the ones that can genuinely demonstrate that they are socially sustainable.
Questions to consider
How do you tell your tax story, can you justify that your arrangements are appropriate and justified?
Can you demonstrate your social utility, how do you balance the value you get from stable and functional societies with the tax you may to support their health and future viability? For further thoughts to help you explore your social purpose and impact, see our thinking on why a focus on social utility is essential.
How can we help?
The world is a complex and changing place. While it always has been, there are good reasons to believe that the economic and business norms of the past will increasingly struggle under the strain of changing times.
Over the past 20 plus years, we have pioneered approaches to sustainable strategy, reporting, skills development, sustainable innovation and vision development. We can help accelerate your current plans, assess your progress or develop strategies to build business value and mitigate risk.
Our business is sustainability. If you want it to be yours too, get in touch with us for a chat.
DISCOVER MORE | Sustainability Issues
Understanding the relationship between your organisation and the wider world, and identifying which issues, trends, dependencies and risks are material (important) to your business future is critical. Not just for measuring and managing impact, but also for developing resilience and responding to …