Reduce risk, build value, and develop innovative solutions for a sustainable future. Shape and develop your sustainability/ESG/CSR journey with our insight-packed guides.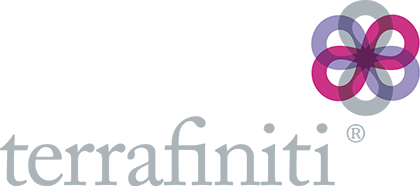 Most organisations have done at least some work on their sustainability, perhaps by reducing energy use, using recycled materials, optimising some logistics and looking at how they engage with stakeholders and communities.
But have you done enough to develop and meet long-term targets on carbon (Net Zero) and other issues such as waste, renewable materials, gender pay/representation, or circular economy?
Do you feel you're running to catch up when it comes to sustainability/ESG?
Are you able to answer customers' questions easily and on time, or do they send you into crisis mode?
Can you describe what your company stands for and what your path is to meet your goals?
Help is at hand
Our free resources help you navigate the complexities of developing and delivering more sustainable business. Based upon over 45 years of industry-leading experience, these resources provide informed and simple guidance for putting sustainability/ESG at the heart of your business goals, processes, reporting, and business strategy.
By signing up to receive our guides, you'll also be the first to hear about key sustainability news, concepts and trends, including our regular articles and sustainable business updates.
What sustainable business guides can I get?
Developing a strategic business approach to sustainability
– transform your sustainability/ESG with a compelling strategic narrative, building consensus, leveraging company strategy and creating value.
On a single page, this guide sets out the 5 critical stages needed to build or transform your sustainability/ESG approach, building a compelling strategic narrative, developing consensus, leveraging company strategy and creating value. If you're not sure how to start or move forward this guide is vital.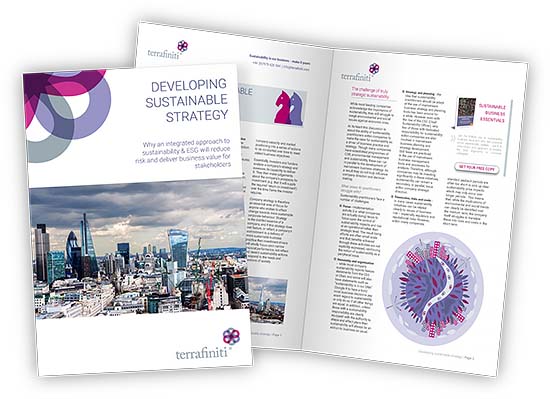 Developing sustainable strategy
– how an integrated approach will reduce risk and deliver business value for stakeholders.
What is sustainable business strategy, why do you need one and how can you build it? This practical guide explores the importance and value of developing a fully integrated approach, alongside some of the commonly faced challenges and pitfalls.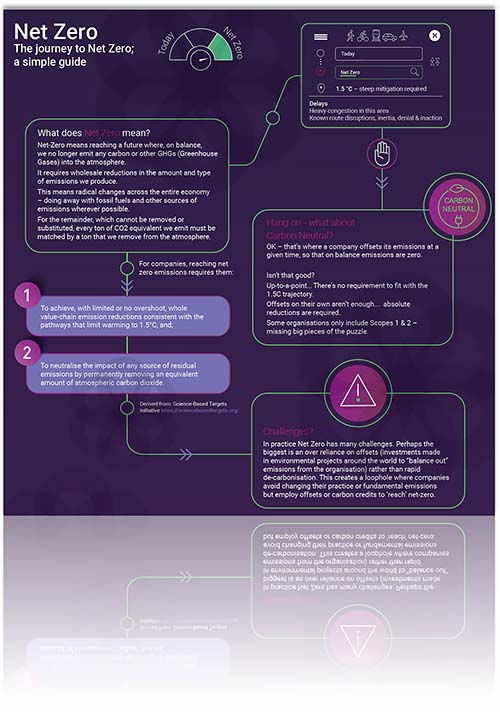 BONUS GUIDE – 'Net Zero'
Climate change is the defining challenge of our age. Net Zero is at the heart of a meaningful response but is massively misunderstood…
We'll also send you our Net Zero Infographic, describing what's important and how to cut through the confusion.
Watch your inbox for this essential infographic – and more.
Get your free resources today and master your sustainable business journey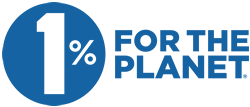 Typically we send around 1 or 2 emails a month. Email includes articles, guidance updates, white papers, surveys, occasional offers and notifications about relevant events. Terrafiniti will never sell your information and promises to keep your details safe. If you no longer wish to receive email you can use the link included on every email to change preferences or unsubscribe at any time. Privacy notice