What is a sustainability issue?
Well almost anything.
But sustainability is essentially a human concept. It wasn't an issue before humans started impacting the planet and each other on a large scale.
Because sustainability is so broad almost anything can be considered a sustainability issue.
Sustainability is fundamentally about human interactions and impacts on the environment and on each other – environmental and social issues.
Economics is traditionally added as a third pillar of sustainability – but others see it simply as a form of social issue.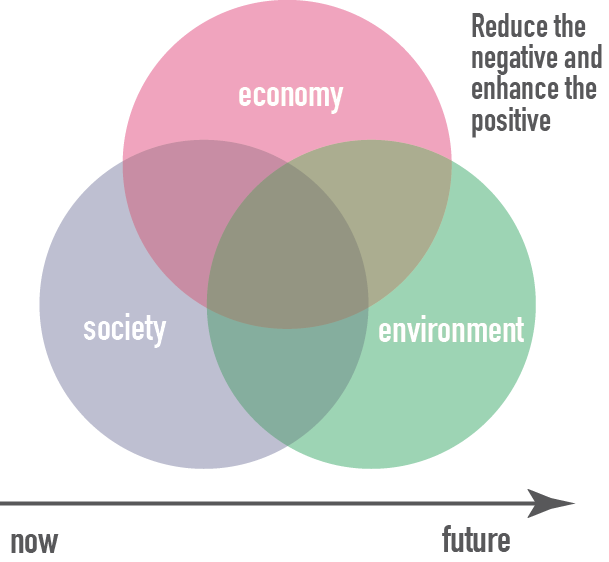 What are the problems?
For millennia we have used the world's natural resources to sustain us but it's only logical that these resources are finite. Scarcity can lead to price rises, hardship and conflict. It also leads to increased efforts to find new resources, often with further or different consequences.
Our increasing and inefficient use of resources has knock-on effects including climate change, loss of biodiversity, pollution, poor health and poverty. These issues are interlinked and in turn often exacerbate each other.
The scale of the environmental/social challenge is enormous. We need to fundamentally change the ways things are done to achieve sustainable development. This will need to go beyond resource efficiency to changing the way things are used and made including; cradle-to-cradle processes, dematerialisation and moving from products to services etc. Sometimes people need help and that's where sustainability consulting services like ours come in.
These are global issues – what can we do as a single company?
Single organisations rarely achieve global change. Responding to these issues requires focus first upon what you control (your products, services and operations) and then what you depend upon (resources, energy, partners and suppliers). In addition, it also involves what you influence through relationships, leadership and innovation.
The changes you may be able to make might be incremental (how you do things) or more major (the things you do).
Examples might include your approach to business, specific projects or products, behavioural change programmes, changes to your value chain, alterations to performance management or governance. Learn more about Sustainable Transition >>
Why should we?
Contributing to a more sustainable future will bring a range of benefits. In the short term you will benefit from enhancement of your sustainability / CSR credentials, meeting and moving ahead of pressures from regulators and stakeholders and finding efficiency-based cost savings too.
Long term benefits include enhanced stakeholder and investor support, lower risks in your value chain, enhanced brand and reputation, better employee relations and knowing you are doing the right thing for our children and grandchildren.
Which sustainability issues matter for businesses?
The sustainability issues that are important for businesses are no different to those that are important for other organisations, governments or individual citizens. However, their responsibility and what they can and need to take action on can often be different.
The pressure for sustainable business is gathering pace.
There is a growing global recognition (in many places anyway) that responding to the accelerating climate crisis, species loss, plastic pollution, inequality and delivering the UN Sustainable Development Goals is a job not just for policy makers and the public but key to the long term health and survival of business.
Periodically we review and write about what matters and how businesses and other organisations can understand, navigate and take action on issues.
DISCOVER MORE | Sustainability Issues
Understanding the relationship between your organisation and the wider world, and identifying which issues, trends, dependencies and risks are material (important) to your business future is critical. Not just for measuring and managing impact, but also for developing resilience and responding to …