Does sustainability contribute to your value proposition? Does it help your company differentiate itself and drive success? If it does you're in a minority, many companies still see sustainability as an activity separate to core business and as a cost rather than a driver of value.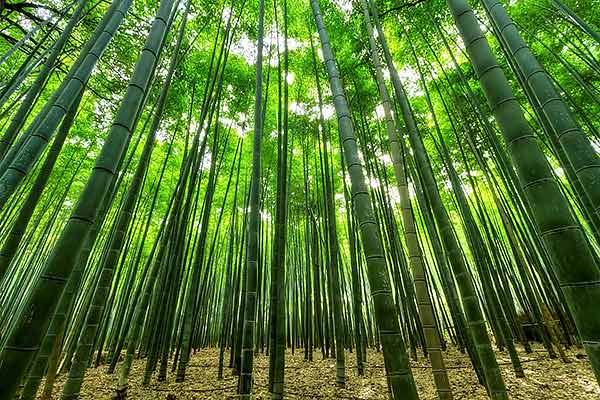 This article builds upon our advice for developing sustainable corporate strategy and focuses on how sustainable activities can be assessed in financial terms and how they can most valuably strengthen your organisations' competitive positioning.
Can you explain your company's competitive strategy?
For sustainability and CSR managers, a clear understanding of how your company competes is an essential part of supporting and tuning your efforts to develop and embed sustainability as a core part of your organisations' commercial proposition.
The business case for sustainability
The business case for sustainability has been a key area of investigation and exploration for the last 10 to 15 years. In 2001, when I was working at WWF-UK, we produced To Whose Profit?: Building a Business Case for Sustainability. The aim of the document was to highlight the alignment between sustainability and value creation, and to show that, for every company, there were compelling and powerful business and profit related reasons to develop sustainable activities.
In the years since To Whose Profit? a number of studies have been undertaken to identify the "killer case" – undisputable evidence that sustainability yields better results. Such evidence has proved elusive. While its possible to identify the alignment of sustainability with overall concepts of good management and indeed that sustainability plays a key role in reducing share price volatility, the "holy grail" of sustainability professionals has remained elusive.
This is perhaps not surprising. It would be difficult for such a business case to emerge for sustainability when it concerns issues that are inadequately valued by the economic system (e.g. long term rather than short term approaches, ecosystem health rather than ecosystem extraction).
To be optimistic, whilst the 'universal' business case for sustainability is difficult to identify within our current market models, a business case undoubtedly exists for your organisation – it's just a case of finding it and making sure that your approach to sustainability enhances the way you compete commercially.
Where are the benefits of sustainability likely to be found?
Sustainability can provide clear commercial benefits but they will differ from company to company. However, for your company – they will lie somewhere within the following four categories, depending upon your exact business model and market positioning:
Revenues and earnings – sustainable innovation can create new markets or provide your organisation with a clear set of product and service performance characteristics with market recognition and differentiation.
Costs – environmental efficiency and cost efficiency are, in the majority of cases, very closely aligned. This is becoming especially important as some of the fundamental resources which all businesses rely upon (energy, water, fuel, raw materials etc.) become more volatile in price terms.
Risk – risk identification, assessment and management are processes in place in any significant business and can provide a vehicle for putting sustainability issues onto the business agenda. Sustainability issues can often be easily translated into the language of business risk.
Intangibles – intangible value is increasingly understood to represent a significant proportion of overall company value, and refers primarily to 'soft' issues which do not feature directly upon company balance sheets such as leadership, transparency, intellectual capital, human capital, workplace organization and culture. Environmental, social and ethical issues have been identified as top-ten drivers of intangible value and there is a strong link between sustainable business practices and key drivers of intangible value.
The competitive dimension
In addition to identifying where the commercial benefits of sustainability might lie for your organisation it is also fundamentally important to ensure that, when planning new initiatives, these are aligned with the way that your organisation competes – your market positioning.
Such an analysis is key because it is potentially possible for a sustainability projects and ideas to either align (and support) the way you compete in the market, or to undermine (and clash with) your competitive position. For instance, there is no point in a company which competes upon cost investing time and effort on sustainability activities which benefit them only in terms of their brand resonance.
This commercial alignment of sustainability activities with strategic positioning is often ignored by companies and consultants, however it is key to the longevity and commercial sustainability of efforts to improve environmental and social performance.
How does your company compete?
Broadly speaking, companies compete in one of two ways, through cost or differentiation.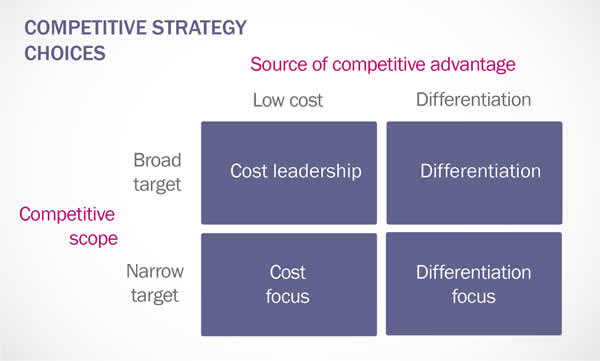 Cost strategy
With this strategy, the objective is to become the lowest-cost producer in the industry. Many (perhaps all) market segments in the industry are supplied with the emphasis placed upon minimising costs. If the achieved selling price can at least equal (or near) the average for the market, then the lowest-cost producer will (in theory) enjoy the best profits. This strategy is usually associated with large-scale businesses offering "standard" products with relatively little differentiation that are perfectly acceptable to the majority of customers. Occasionally, a low-cost leader will also discount its product to maximise sales, particularly if it has a significant cost advantage over the competition and, in doing so, it can further increase its market share.
Differentiation strategy
This strategy involves selecting one or more criteria used by buyers in a market – and then positioning the business uniquely to meet those criteria. This strategy is usually associated with charging a premium price for the product – often to reflect the higher production costs and extra value-added features provided for the consumer. Differentiation is about charging a premium price that more than covers the additional production costs, and about giving customers clear reasons to prefer the product over other, less differentiated products.
Aligning sustainability and competitive strategy
Once you have identified which competitive strategy is employed by your organisation, assess existing or potential sustainability actions and initiatives in the light of their ability to enhance and reinforce that strategy.
It is important to note that, regardless of the strategy your business uses to compete, actions which reduce costs and improve efficiency are likely to always be valuable!
1. If your organisation seeks competitive advantage through cost leadership then responses which reduce your operating costs, increase operational efficiency and allow the production of products or services more cheaply will fit this strategy.
2. If your organisation seeks competitive advantage through differentiation then responses which allow your product or service to be viewed as embodying quality, ethical values, enhanced brand or other wider values will fit this strategy.
In practice, your organisation may utilise more than one strategic approach in different markets or for different products and services. Nevertheless, ensuring that sustainability efforts are aligned correctly with the wider commercial approach has the double benefit of improving business performance as well aligning with the way that you already do business.
DISCOVER MORE | Sustainable Business Strategy
Most major sustainability issues have important risk dimensions for companies – and societies. In many cases these are still not adequately represented in board-level discussion, company risk assessments or registers.
WEF's Global Risk Report provides a very useful, comprehensive global review and …