"Virtue can only flourish among equals."
Mary Wollstonecraft
All UK companies with more than 250 staff must report their gender pay gap by 4th April 2018. Of the 9,000 UK companies that are required to report their performance only 3,700 had done so on the 25th March, and more than 25% hadn't even registered.
What needs to be reported? The Government requires figures for gender pay gaps in mean and median hourly pay, the same for bonuses and proportion of male and female employees in each pay quartile.
What are we seeing so far?
With so many companies still to report, the range so far is already huge, from c. 107 to -107% of mean gap in hourly pay. That means that in some organisations women's hourly rate is 107% lower than men's – and the opposite at the other end of the scale. So that's OK then? Not really, the extremes at either end are the same but the distribution is highly unequal.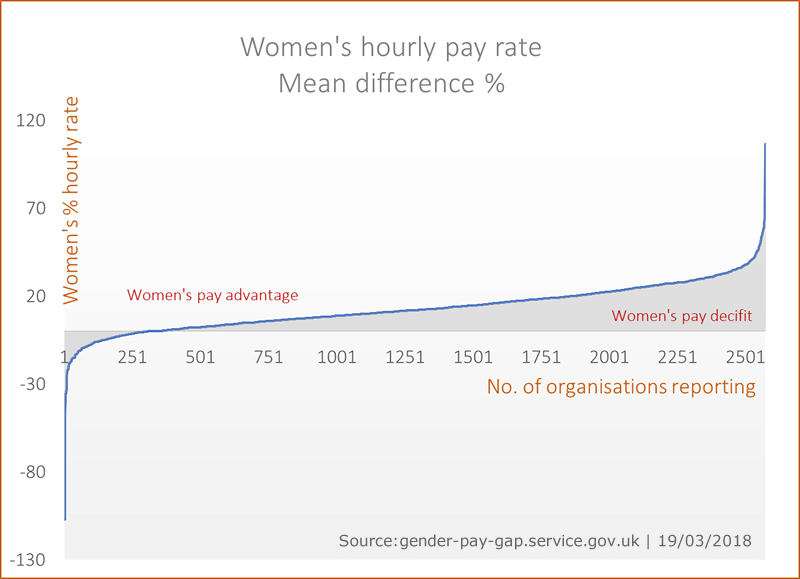 When digging further into the gender pay data an initial analysis of industry types reveals a few notable issues (as of 19/03/2018).
Within the top quartile (that's to say where women are either not disadvantaged or relatively less disadvantaged) there are a number of public sector bodies. This maybe expected as public funds should be spent with a view on equality. At the other end of the scale in the lowest performing quartile there are a number of banks, other financial services companies and three airlines. Both examples are likely to be explained by a relatively high proportion of highly paid men in the workforce (i.e. bankers or pilots).

Assuming these companies are observing the Equal Pay Act (the data cannot directly tell us if they are or not), there appears to be a huge gender pay gap – why are there apparently so many more highly paid men in the workforce? The reasons appear complex and interrelated. Broadly they are thought to include a range of cultural factors:
women disproportionately fulfill childcare and caring roles and are more likely to take leave, career breaks or work part-time. This seems to harm career progression and levels of pay.
It has been suggested that women are generally less bullish about seeking progression, for example applying for more senior roles only where they have nearly 100% of the requested criteria – whereas men will apply when they have around an 80% match between skills and the stated requirements of the role.
There's a pipeline issue – women are less well represented in technical and science related (STEM) education and training. These areas are generally more highly paid but have poor representation of women. This is often called the "leaky pipe" and we explored this in an article looking at diversity and STEM careers.
What does this mean?
It's complicated and doesn't necessarily mean companies are contravening the Equal Pay Act, it's more likely that lower paid roles are disproportionately occupied by women. It's also been suggested that part-time working and a range of conscious and unconscious biases play a part.
Why does it matter?
Ethically, it's not fair. In utilitarian terms research suggests that more diverse, equal and transparent organisations perform better. While it is difficult to assert a clear relationship between diversity and financial/business performance improvement, there nevertheless remains some compelling evidence on why more balanced and diverse organisations are more successful.
A two year survey from Bersin by Deloitte found that more advanced and diverse companies had "3 times higher cash flow per employee over a three-year period" than lower performing companies.
The McKinsey Report "Why Diversity Matters" highlighted research which suggests: "Companies in the top quartile for racial and ethnic diversity are 35 percent more likely to have financial returns above their respective national industry medians". And that "Companies in the top quartile for gender diversity are 15 percent more likely to have financial returns above their respective national industry medians".
Catalyst's 2007 report "The Bottom Line: Corporate Performance and Women's Representation on Boards" found that businesses with more women board directors demonstrate a range of clear financial benefits in terms of enhanced return on capital, sales and invested capital.
Gender imbalance – not a good look
It's long been an interesting phenomenon that if you look at the social and employment policies of most leading companies you would clearly see them as pioneers and upholders of the best liberal-humanist values. The challenge is not that the policies don't indicate a commitment to equity of access and equality of opportunity, support for flexible working and an acceptance that different people bring different, valuable skills. It's that, if the current data on the pay gap are correct, there is also a yawning chasm between company policies and their actual practice.
There are of course many reasons why different people get different pay, but at a structural level, the data so far show that companies and society as a whole have a long way to travel to deliver equality when it comes to employment, opportunity and reward.
DISCOVER MORE | Sustainability Issues
Greenwashing – misleading communications on sustainability issues – has various dimensions of risk, but these are often overlooked, and their implications are insufficiently examined.
While greenwashing may appear as simply irritating, it actually causes a range of harm and presents multiple …