Sustainability is fundamentally about long-term success. Companies and charities are created and managed to sustainable create value, whether that is described primarily in financial or social terms.
Understanding the strategic relationship between your organisation and the wider world, and identifying which issues, trends, dependencies and risks are material (important) to your business future is critical. Not just for measuring and managing impact, but also for developing resilience and responding to the changing requirements of clients, investors and wider stakeholders and ultimately maximising the opportunities for sustainable value creation.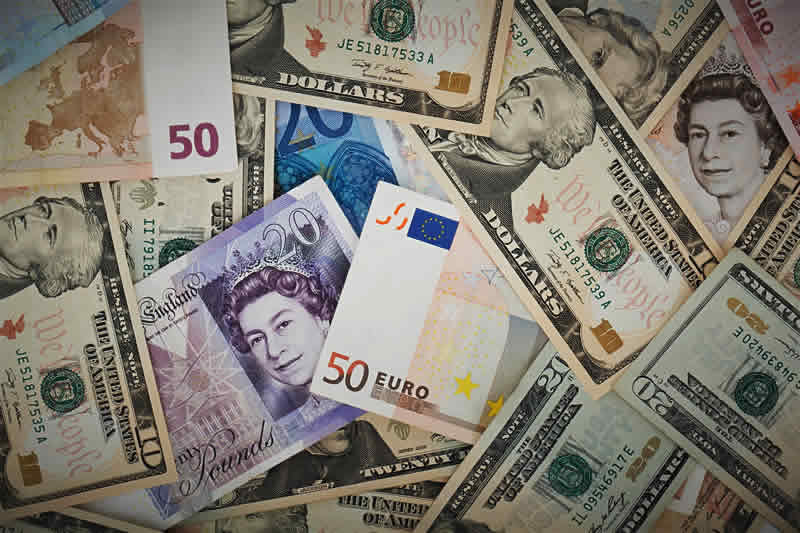 The business case for sustainability
The long-term business case for sustainability is clear – there is no money to be made from a dead planet.
However, in recent years the need for a business case has shifted from the question of "Do we need one?" to "How does sustainability affect our organisational value?" This means that answering the second question has become front-of-mind for CEOs, CFOs and investors.
So just how does sustainability relate to the dimensions of business value?
The inherent complexity of sustainability can make it difficult to understand how it intersects with and drives value creation. However, examples can be found in company communications. Unilever (a few years ago in their Sustainable Living Plan) expressed their business case for sustainability like this.
Until recently, such descriptions tended to be found only in sustainability reports. But they are increasingly finding their way into investor presentations, where companies are communicating directly to their investors about not just what they are doing on sustainability, but why it has a direct relevance to the performance of the company as a whole.
As an example, here is a graphic taken from Arcelor Mittal's 2021 investor roadshow, titled Sustainable Value Creation.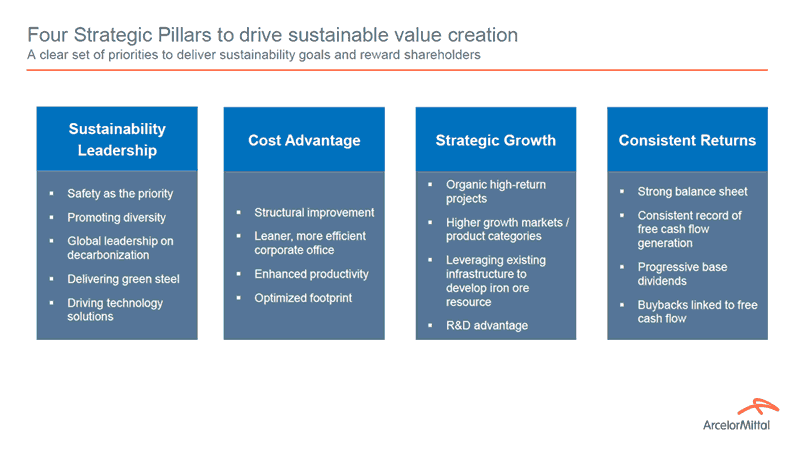 In each example although the language varies, you can see the same value categories identified:
Revenue
Costs
Intangible value
Risk.
Let's dive a little further into each category and explore how and why sustainability contributes.
Revenues
Sustainability relates to revenue benefits in two ways. Firstly, because sustainability is increasingly becoming a condition of sale and secondly as a driver of revenue growth.
Sustainability as a condition of sale
Many of our clients are receiving questions from their customers about their sustainability strategy, focus and plans. This is not simply about whether they have a sustainability strategy, but rather requiring detailed information about their material issues, their plans and targets for managing and reducing sustainability impacts. Increasingly evidence of performance against targets is also sought. This is especially important for hot button topics like Net Zero / Science Based Targets. the use of plastics and other non-renewable or problematic materials.
Sustainability as a driver of revenue growth
Taking sustainability seriously and integrating it into product and service innovation, can drive revenue and market share. Investors, for instance, are not just interested in the overall performance of your company, but also value more granular information such as:
Sales growth – how does your sustainability response help specific business units grow faster than others?
Margins – how are these affected by relevant sustainability issues, and how are you predicting, in a fast-changing world, the effect of margin impacts (things like raw materials costs, energy and other input costs) and how they will affect your financial performance?
Costs
To some extent, this is the easiest and simplest relationship to describe. All businesses make purchases to develop, build and sell products and services. The more efficient they are translating what they buy into products and services, the better the relationship there is between the costs they pay and the price that they charge. If you can optimise your input costs, you can generate more profit per sale.
Intangibles
Intangibles are just that, intangible (hard to put your finger on!), they refer to characteristics that have value but are not physical in nature. They represent the difference between a listed company's net book value (the value of their assets, if sold) and their market capitalisation (the totalled value of their shares). They include brand, leadership quality, goodwill, intellectual property/patents, R&D spend and sustainability approach, focus and performance.
But it is not just listed companies that have intangibles, all organisations have them – reputation, talent (capable people) and market/partner and funder relationships.
The relationship between sustainability and intangible value is indirect and can be unpredictable. However, there are clear relationships between a company's approach, goals and performance in sustainability and its ability to attract and retain finance in the form of ESG-orientated equity (shareholdings) and funding (in the form of sustainability/ESG-related loans and revolving credit facilities).
In addition, the relationship between sustainability approach and performance and brand/customer loyalty is also complex, but the trends are clear. For example, the annual Edelman Trust Barometer notes that 58% of people "will buy or advocate for brands based on their beliefs and values".
Interest in companies that 'do the right thing' on social and environmental issues is no longer niche or marginal, but a growing factor in all investment decisions.
Listed companies have seen an increasing focus from investors on ESG (environmental, social and governance performance) for companies in their portfolios. The main entry point for this focus is on the quality and capability of governance. This is because governance is viewed by investors as a proxy for a well-run company. It tells them whether a company has recognised and identified its material social and environmental risks and dependencies, whether it has responsibilities, rewards and structures in place, and how it will organise itself to drive performance and disclose its progress.
Risk
Sustainability relates to risk in several ways. It is often surprising that companies can be comfortable to identify and manage certain types of risks, but completely ignore others which have traditionally seen as the remit of governments, NGOs and wider society.
Possible risks may include supply chain disruption, cost changes arising from taxation, regulation or scarcity, physical risk from climate change, societal risk from wealth or health inequalities, reputational / brand risks from involvement in habitat destruction, climate denial, inappropriate lobbying, pollution, and the use of specific materials.
All companies have some sort of risk function. Its principal job is to spot, avoid and/or mitigate risks to company performance from issues which arise internally or externally to the company.
So, for sustainability professionals, understanding how your risk function works is crucially important. Is it looking at the right sustainability risks, and is it making appropriate judgement calls for management and mitigation?
A recent article exploring the work of WBCSD's Redefining value programme noted a reduction in the percentage of surveyed companies (a cohort of 250) with no link between their material sustainability issues and risk management. "The percentage of companies that had zero alignment between the material topics listed in their sustainability report and the topics covered by legal risk filings was reduced from 29% in 2017 to 17% in 2020." Which suggests a possible improvement in awareness and engagement at least.
However, there remains a gap between the global risks identified annually by the World Economic Forum and the risk management practices of companies. In The Global Risks Report 2022, five of the top ten risks are environmental in nature, while three are social and only one is economic.
Given this recognition of the importance of sustainability risks at a global scale, you would expect to see companies working fast to ensure enterprise risk management functions are up to speed with material sustainability/ ESG risks.
Conclusions
Through our work on sustainability and value, spanning more than 20 years, we have seen the recognition of sustainability move from being a largely marginal consideration to one which is critical to the future of organisations.
This is reflected in what we hear from professionals in our networks. At one of our recent events, a seasoned corporate sustainability professional explained that when they joined the company they were seen as a 'tree hugger'. Twenty years later, they are now seen as the 'saviour of the company'.
Understanding how to create sustainable business value in your organisation is essential to help drive sustainable change and transformation. It's the most powerful and important part of the business case and of strategic importance to your business future.