How far you can go without destroying from within what you are trying to defend from without?
Dwight D. Eisenhower
Diesel air pollution is a global issue that has received particular focus here in the UK in recent months. Scrutiny has increased following the VW emissions scandal and ongoing research that has increased understanding into the health impacts of diesel air pollution. Air pollution can damage us at all stages of life from before birth to old age, it contributes to chronic conditions including heart disease, cancer, asthma and dementia (NHS). The recent Royal College of Physicians report suggested that air pollution cases up to 40,000 annual premature deaths in the UK.
But this is of course a worldwide phenomenon, the mayors of Athens, Madrid, Mexico City and Paris are also planning to ban diesel vehicles from their cities by 2025.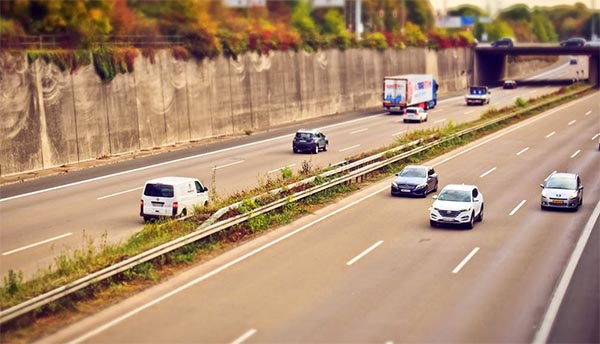 As always with anything that costs or makes people money there's a lot of confusion around the issue of diesel air pollution wafting around. How do we try and navigate the issues here?
Diesel air pollution – clearing the air
Burning diesel contributes to pollution (although it's not the only source) in three main ways:
Particulates – small particles of solid material that become airborne. These arise from a range of sources including agriculture, mining, industrial process and transport. Vehicles generate particulates from combustion and also generate particles from tyre and brake wear. Diesel engines generate more particulates than petrol ones. Particulates are classified according to their size, the main transport-related sizes are PM 2.5 and PM 10 (up to 2.5/10 micrometers respectively). The smaller particles have the greatest health impacts affecting the cardiovascular system and lung function.
Noxious NOx – in air pollution terms, collectively refers to Nitrogen Oxide (NO) and Nitrogen Dioxide (NO2) – both oxides of Nitrogen (NOx). NOx reacts with water or ammonia to form Nitric acid which can damage lung tissue. In the presence of sunlight, NOx reacts with volatile organic compounds (VOCs) to form and in some situations, destroy ozone. In the UK road transport accounts for c.34% of NOx emissions and these were the main focus of the Volkswagen emission violations.
Ozone – high up in the atmosphere ozone (O3) is useful stuff, filtering out large amounts of ultraviolet radiation. However, ozone is a powerful oxidising agent and near ground level ozone can damage mucous and respiratory tissue and harm lung function.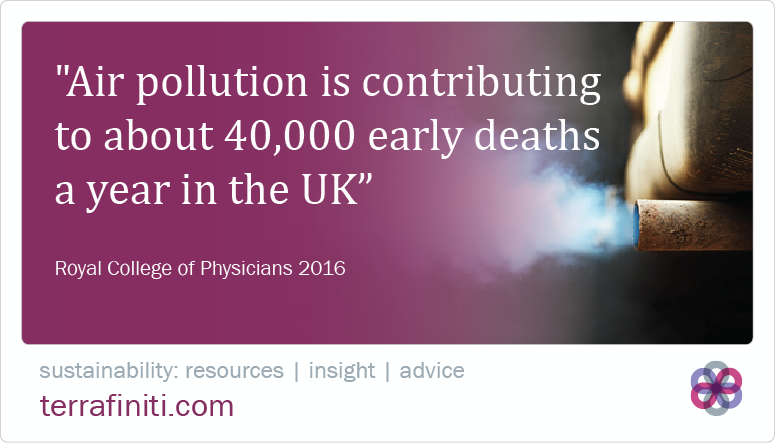 Vehicle Emissions standards
Love or loathe the EU, it has been at the forefront of setting emissions standards for vehicles, but as we now know these have been problematic on several levels. The regulatory framework has a relatively straightforward logic – set increasingly stringent standards that manufacturers must meet. This has resulted in the evolution of different Euro standards (1 – 6) over time with the focus for Euro 6 to converge NOx and particulate emissions for diesel and petrol engines. The corresponding standards for larger commercial vehicles (lorries, buses etc.) have been more stringent for several years.
European emission standards for passenger cars, g/km
TIER
DATE
CO
NOx
HC + NOx
PM
PN [#/km]
Diesel
Euro 1
July 1992
2.72
–
0.97
0.14
–
Euro 2
January 1996
1.0
–
0.7
0.08
–
Euro 3
January 2000
0.66
0.50
0.56
0.05
–
Euro 4
January 2005
0.50
0.25
0.30
0.025
–
Euro 5a
September 2009
0.50
0.180
0.230
0.005
–
Euro 5b
September 2011
0.50
0.180
0.230
0.005
6×1011
Euro 6
September 2014
0.50
0.080
0.170
0.005
6×1011
Petrol
Euro 1
July 1992
2.72
–
0.97
–
–
Euro 2
January 1996
2.2
–
0.5
–
–
Euro 3
January 2000
2.3
0.15
–
–
–
Euro 4
January 2005
1.0
0.08
–
–
–
Euro 5
September 2009
1.0
0.060
–
0.005
–
Euro 6
September 2014
1.0
0.060
–
0.005
6×1011
CO
Carbon Monoxide
NOx
Nitrogen Oxides
HC + NOx
Hydrocarbons & NOx
PM
Particulate Matter
PN
Particle Number
The standards are tested and enforced in a standard and what is intended to be fair process. Currently all cars sold in the UK are subject to New European Driving Cycle (NEDC) procedure. This involves testing in laboratory conditions on a rolling road. Cars to be tested are randomly selected from production lines by the testing authorities and tests are conducted under standardised conditions to allow comparisons between vehicles.
Where have these gone wrong?
In two key ways. Firstly, while the tests provide some basis for comparison they do not reflect real world performance which in most cases is far worse than the lab tests. This is likely due to several reasons including:
differences in test conditions – including driving up and down hills, in heavy traffic, in different temperatures, weather conditions and distances.
targeting – taxation in Europe has largely been focused on CO2, manufacturers have been optimising for this rather than fuel consumption or other emissions.
Secondly, it's clear from the VW scandal that at least one major manufacturer has deliberately circumvented the tests. While VW Group finally admitted their software fix to defeat the testing cycles, many other makers are coming under the spotlight for exploiting loopholes in the testing procedures. Transport & Environment has conducted research into diesel emissions levels, including publishing their 'dirty thirty' list. This is based upon investigations conducted in Germany, France and the UK and included vehicles which:
Were 'Euro 6' (latest EU emission class) models;
had NOx emissions over 400 mg/km (5 times the Euro 6 NOx limit of 80 mg/km) for RDE (Real World Driving) test results;
had NOx emissions over 160 mg/km (2 times the Euro 6 limit) in NEDS tests;
included a wide selection of manufacturers to illustrate the greatest spectrum of emissions problems.
The full list of polluting vehicles is available here.
Transport & Environment identified three key areas that defeat devices target:
Thermal windows – switching off or weakening exhaust treatment systems at temperatures below those typically used for lab tests;
Hot restarts – test data showed (23/30 cars) higher emissions after a hot start compared to a cold one. Suggesting different engine calibration is used for cold starts (as are used in EU tests);
Cycle detection – EU tests take 19 minutes, German testing authorities have found one manufacturer's exhaust treatment system turning off after 20 minutes.
Research by the consumer group Which? examined 278 diesel cars manufactured 2012 – 2016, testing average NOx emissions compared to Euro 5 (0.18g/km) and Euro 6 (0.08g/km) limits. They found emissions levels up to 400% higher than regulations required for Euro 5 (0.73g/km) and 900% above (0.72g/km) Euro 6 levels.
There are a variety of possible reasons for the gap between test and real world performance, but the additions by VW and the emerging evidence on other manufacturers points to avoidance measures. Automotive News refers to a range of "euphemisms such as "engine calibration," "acoustic function," "thermal window" — or in the U.S., "auxiliary emissions control devices" — describe conditions under which car makers may minimize or switch off their expensive exhaust-treatment systems in the name of guaranteeing mechanical durability".
They also report on investigations by German authorities which suggest widespread use of these largely legal devices. Why are they apparently legal? Manufacturers have negotiated a range of exemptions and mitigations to allow emissions management to be turned off ostensibly to prolong engine life or for safety reasons. However, in Europe they do not have to declare if they have employed these features (they do under the US regulatory framework).
Crisis in trust … and in action
An article in the influential journal Nature in May 2017, suggested that worldwide there were 38,000 excess annual deaths related to the failure of diesel vehicles to meet regulated limits in real world conditions. The majority of these deaths are concentrated in Europe where diesel cars are relatively common and India and China where dirty trucks and vans are more prevalent. If all vehicles met the current regulatory limits worldwide the study calculated NOx emissions could still account for 70,000 annual excess deaths worldwide.
The situation has resulted in a crisis of trust, car manufacturers are distrusted by both regulators and the public. The EU Real Driving Emissions (RDE) regulations may at last offer a more thorough and realistic regulatory framework and thereby at least a more transparent and level playing field for manufacturers, these begin to apply in September 2017 for new type approvals and September 2018 for all new vehicles. But even if this new paradigm is successful what about the current 'fleet'. In the UK there are c. 12M diesel vehicles in use that passed through the previous shaky regulatory regime and are currently doing all of us harm whether we drive them or not.
The UK Government has been repeatedly chastised in the courts for its failure to get a grip on air quality. As a result new plans are under consultation, these include possible:
'toxin taxes' to enter restricted urban areas
bans on diesel cars in city centres – maybe related to emissions standards – i.e. below Euro 6
rises in VED tax in 2017 Autumn budget
Clean Air Zone establishment and expansion by local authorities
vehicle scrappage or retro-fitting schemes to be handled by local authorities.
While the current plans are under consideration, it appears that additional 'toxin taxes' could apply in at least 27 UK cities for motorists bringing in diesel cars and some local authorities in London already charge higher rates for parking for 'dirtier' vehicles.
Driving forward?
Like many issues in sustainability, diesel pollution is a complex mixture of responsibility, governance, regulation, politics, and technology. It is also a 'commons' issue because we are all affected by air quality and because the parties that give rise to the impacts aren't necessarily those which bear the costs.
The drive towards diesel in the UK was encouraged by the taxation structure provided by Gordon Brown in 1998 as Chancellor of the Exchequer. It was promoted as part of a push to lower CO2 emissions and reflected similar initiatives across Europe, but failed to encompass the wider issues and has had a range of unforeseen consequences. This previous signal to consumers to purchase diesel vehicles means that government bears considerable responsibility in sorting it out. People bought diesel in good faith, believing that it was a relatively clean choice, a position also promoted by the motoring press. Consequently, politicians are hesitant to ban or punitively tax the use of diesel vehicles. Many commentators believe the Government's emphasis in the current policy consultation on action via local authorities is a failure in leadership.
So what would an adequate and reasonably equitable response look like? Much of the discussion revolves around cost, be it the personal costs to an individual to purchase an alternative vehicle or the costs to national or local government to fund scrappage schemes, or the costs to the community in ill-health, loss of productivity, increased health costs and shortened lives.
Taken objectively the societal 'cost' of 40,000 excess annual deaths is extraordinary and that's not even including the moral consideration for action. Like trying to dislodge any established technology, change will be difficult, controversial and expensive – but nothing like the price of inaction.
DISCOVER MORE | Sustainability Issues
Greenwashing – misleading communications on sustainability issues – has various dimensions of risk, but these are often overlooked, and their implications are insufficiently examined.
While greenwashing may appear as simply irritating, it actually causes a range of harm and presents multiple …