How does budget address sustainability?
Here in the UK the Autumn budget is a big thing, even if only for policy wonks and reporters. Everyone else generally tries to ignore it or remain in a state of denial, particularly regarding the downward revisions of our economic growth prospects. However, behind the rather tedious statements, analysis and inevitable knee-jerk reactions, the budget is a serious matter, not least because of what it indicates for sustainability. The budget signals and enacts the government's priorities and how it intends to use economic instruments to achieve its objectives. In short, putting its (our) money where its mouth is.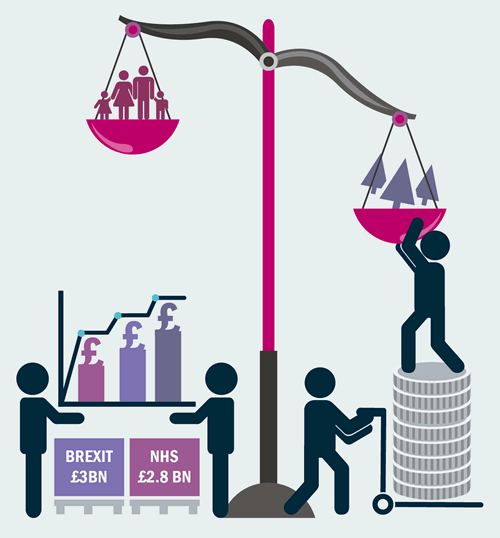 There's plenty of near instant analysis, comment, and critique to be found, but we're just going to concentrate on some of the apparent headlines for sustainability and what the budget means for some key issues.
Air quality
Diesel is currently a hot (smoking?) issue. There was plenty of speculation prior to today about increased taxation on diesel users. In practice, the Government will be increasing the tax rate in April 2018 for new diesel cars that don't meet the latest standard – by a small amount. This measure does not include vans (no doubt to pacify white van man and woman). Increased revenues will be used to fund action on air quality, with a new fund of £220m to support the development of local air quality plans. However, the planned rise in 2018 on fuel duty (petrol and diesel) will be scrapped for the eighth consecutive year. This will help those (many) struggling with household costs but provide little incentive to reduce fossil fuels. Previous governments encouraged the purchase of diesel cars for their lower carbon emissions and they have helped contribute to what's been termed a public health emergency in air pollution. However, there was no sign of a diesel 'scrappage scheme' to assist owners of older and dirtier cars to replace them with cleaner ones.
Housing & social support
The headline announcement for the 2017 budget was the scrapping of stamp duty for first time buyers on homes up to £300,000. This will likely help those looking to buy but many economic commentators think it will simply create enough wriggle room for the housing market to warm up again and drive price inflation. For those without £300,000 there was some funding for housing pilot schemes in Manchester, West Midlands, and Liverpool to tackle rough sleeping. On new housing there was a raft of wider measures to stimulate housebuilding headlining with a promised £44bn capital funding to help build 300,000 homes a year by the mid-2020s.
Turning to the universal credit system, the government's overhaul of social security payments, the budget has introduced money to remove the 7 day waiting period for new claimants. This will reduce overall waiting time and hence some of the potential hardships the scheme has been criticised for.
Climate
Responses to climate issues have been rather mixed. The Chancellor announced new tax breaks for North Sea Oil companies to "encourage new entrants bring fresh investment to a basin that still holds up to 20 billion barrels of oil".
Despite calls before to look at carbon pricing, the budget has confirmed that Total Carbon Price will remain unchanged.
On the plus side, there are modest improvements in funding for electric vehicles, with apparently new investment of £400m in a new charging infrastructure fund, £100m for the plug-in car grant and £40m available for R&D in charging.
There appears to have been no measures to support the solar energy market after significant withdrawals of subsidy in recent years. There had been hopes of capital allowances or business rate exceptions to at least match those given to fossil fuels. It also appears that there will be no new money made available for renewables until 2025.
Early comment has also been critical of the government's continued support for biomass energy, rather than a reduction in support because of the downsides it has in practice. Burning trees and wood materials in old coal power plants results in carbon-release as well as air quality issues and it has been argued also distorts the wood market.
Plastics
Referring to the BBC's Blue Planet II, the chancellor has looked at plastic waste and stated that "I want us now to become a world leader in tackling the scourge of plastic littering our planet and our oceans".
The budget proposals include working with the Environment Secretary to look at how the tax system and potential charges in single use items (such as the current plastic bag tax) might help reduce waste. This work will be backed by a call for evidence in 2018.
What does this mean?
It's still early days, in previous budgets we've had clarifications, changes and U-turns. However, in sustainability terms this is a very mixed bag. There was very little apparent focus on improving social issues and the environmental measures are like the curate's egg; only good in parts. There were many mixed messages. The chancellor is to be applauded for his ambition on plastics waste, but the ambitious words on air quality and health were backed by highly mixed actions. The support for electric vehicles is to be welcomed, but little action and weak signals on diesel and air quality fall very much into the could do better category. However, farther support for fossil fuels (in the absence of incentives for renewables), suggests a chancellor looking to prop up the short-term financial bottom line for UK PLC while ignoring longer-term human and environmental costs. In the light of the Government's legal requirement for a decarbonisation pathway to reduce carbon emissions by 80% by 2050 it seems that in terms of carbon at least, Mr Hammond is following what so many of his colleagues have done over the years and kicking the carbon can down the road yet again. Carbon is, he feels, an issue for another time!
Last night the BBC's John Pienaar described the chancellor as a "dancing penguin on a melting iceberg", I think this was intended to be a largely metaphorical reference to the economic constraints he is working within. Unfortunately, it also extends to a lack of action on climate change.