To-date, claiming environmental credentials has been somewhat of a niche activity. But now that consumers, governments and even a few companies are waking up to the power of blah blah blah – greenwashing really has gone mainstream.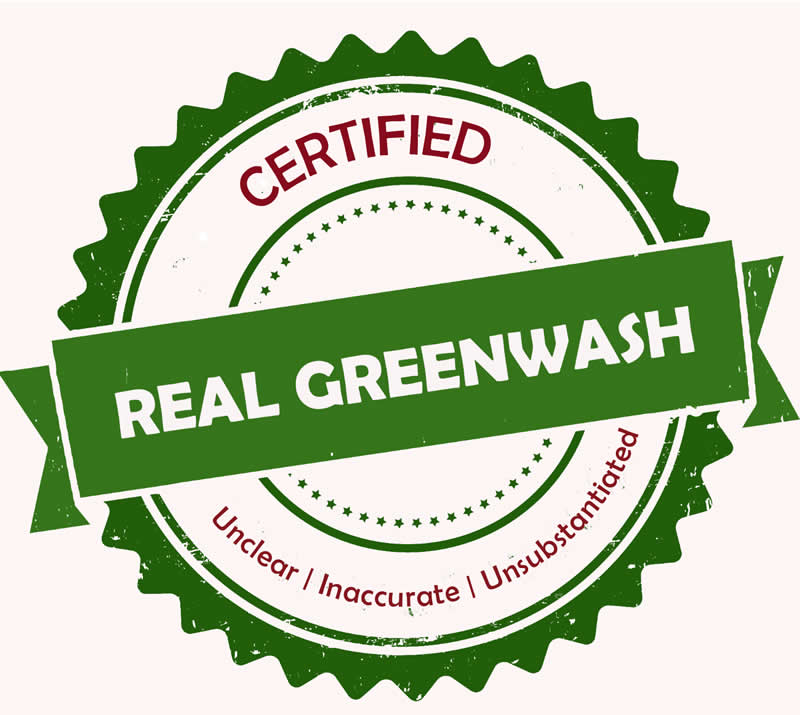 There's so much activity it can be difficult to keep up and not be overwhelmed with who's claiming what and on what basis – or perhaps more importantly – what lack of basis.
It's even been suggested that some green marketing claims are close to true*.
So why does this matter?
You might consider yourself an old hand at greenwashing.
Perhaps you've made some truly outrageous claims with virtually no basis in fact.
You think you're top at the top of your game.
But you have a little voice in your ear – 'what if someone else is making claims even more mendacious than ours?'
It's time to get professional. So, we're pleased to announce the new Real Greenwash KitemarkTM.
Backed by international deficiency standards you can now be sure you can:
Establish true egregiousness
Demonstrate meaningful inauthenticity
Offer customers real proof of inadequacy.
How does it work?
The underlying deficiency framework can be daunting to navigate, and there are several important traps you might miss if you're (not) not careful.
However, as usual, we've applied our extensive experience to cut to the chase and save you wasting any time. Here are some simplified criteria to apply to see if your copy and collateral are suitably deficient and can meet the level of a top dissembler.
Real GreenwashTM statements must ensure that they comply with at least 2 of the following 3 tests:
Claims must be demonstrably unclear
They must be wildly (or at least substantially) inaccurate
Claims should be totally, or at the least significantly, unsubstantiated**
There are many routes to inadequacy, and Real GreenwashTM is committed to helping you lead your customers and other stakeholders down the eco-friendly garden path.
Real Greenwash TM offers almost unlimited opportunities. So, if you're interested, (hopefully you are because we're not) we offer an extensive range of totally generic support packages to clients starting at only £197,000 (exc. VAT) that you will find a priceless investment. Contact our sustainability consultants – and if we can be bothered, someone might get back to you.
---
* We don't have any evidence to support this.
** Demonstrating truly unsubstantiated claims can be difficult. To support your ability to comply, the Real GreenwashTM standard gives you the flexibility you need. Even if some portion of your rhetoric turns out to be partially true you can still achieve certification on other counts.