Human judges can show mercy. But against the laws of nature, there is no appeal.

Arthur C Clark
Is our species on course to commit suicide by planet?
Suicide by cop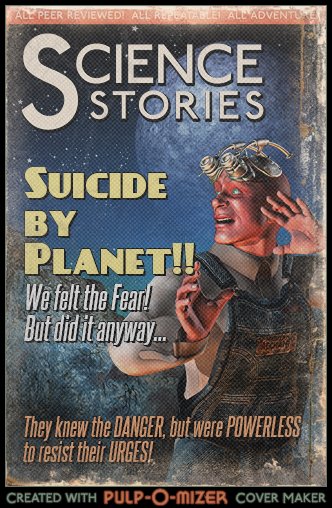 You don't have actually to kill yourself to commit suicide. It is possible to commit suicide through taking conscious, knowing and wilful behaviour likely to provoke a reaction that will lead to your death.
This is recognised in law as "Suicide by Cop"; where armed police capable of and trained in the use of deadly force, are deliberately provoked into using that force by the actions of an individual or individuals.
It is a conscious act of self-destruction, conducted using an understanding of relevant cause and effect relationships.
Suicide by planet
Self-preservation, nature's first great law, all the creatures, except man, doth awe.

Andrew Marvell
In planetary terms, it is not such a huge stretch of credulity to see the parallels between the trajectory of human behaviour, impacts at a global level and the act of suicide by cop. This could be termed "suicide by planet".
Suicide by planet constitutes the continuation of behaviour likely to lead to death due to wilful ignorance of planetary-scale cause and effect. It may not be the conscious intent of individual people. Indeed, it may be the exact opposite of what most of us intend for our lives.
However, it is a path we are heading down if we continue with global business-as-usual. Our scientific understanding of global cause and effect relationships (as framed by the laws of thermodynamics), the state of the planet and the impacts of how we consume combine to indicate a clear direction of travel.
Such a depressing outcome was not the deliberate plan of the countless economists, investors and policy makers and businesses of the ages. Indeed, many of them were genuinely committed to the advancement of human wealth and (varyingly) the public and private good.
However, when the implications of a course of action are evident but ignored then the only rational judgement that can be made on that behaviour is that it is wilfully suicidal.
Does capitalism's headlong hurtle towards large though ultimately unbending environmental limits represent an unprecedented attempt at suicide by planet? Is it a collective, subconscious aching for oblivion, for the quiet that there will be once we have gone?
It's just a thought…..
Of course, this might be an overly negative view of our current situation. It is possible that what we are really talking about is not the suicide of our species but the suicide of our current ways of life….
But to be frank, if we weren't dead-set upon the suicide of our civilisation then you might think we would design, value and do things differently, wouldn't you?