There are some missing items on the forthcoming Rio+20 agenda – GLOBE International knows what they are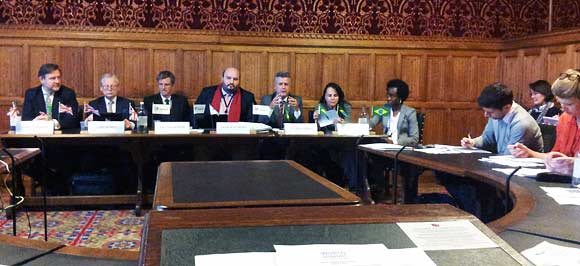 Yesterday I was pleased to attend an event at the House of Commons "Rio+20 and the World Summit of Legislators: Scrutiny, Legislation & Natural Capital Accounting – the missing parts of the Rio agenda".
The event was an opportunity for GLOBE International to discuss its plans to conduct its first World Congress of Legislators in Rio on the 15th-17th June, in advance of the Rio+20 conference. The Summit intends to reinforce the need for global natural capital accounting and to place "national legislation, natural capital and scrutiny at the heart of implementing the Rio agenda".
This event formed part of GLOBE's tour of parliaments providing updates on its agenda and exploring the issues and challenges of building a sustainable world.
GLOBE was represented by a host of recognised names in sustainability:
•    Zac Goldsmith MP, Vice President of GLOBE International
•    Rt Hon. John Gummer, Lord Deben, President of GLOBE International
•    Senator Rodrigo Rollemberg, Chairman of the Brazilian Senate Environment Committee & Vice President of GLOBE Brazil
•    Senator Serys Slhessarenko, Ambassador for Rio+20 World Summit of Legislators & former Vice President of the Senate of Brazil
•    Barry Gardiner MP, Vice President of GLOBE International
•    Adam Matthews, Secretary General of GLOBE International.
In addition, the event attracted a stellar cast of supporting players to support the initiative and join the debate including (but not limited to) Caroline Spelman MP, Secretary of State for Environment, Food and Rural Affairs and Richard Benyon MP, Parliamentary Under Secretary of State (Natural Environment and Fisheries).
Pricing Natural Capital
Discussion focused around the overwhelming need to prioritise and value the state and productivity of Natural Capital (the services and production arising from functioning ecosystems). The issue has been a source of intense activity and focus over the past decade as scientists, environmentalists and latterly legislators have sought to recognise that financial capital can only be derived from Natural Capital and to measure its worth.
Such efforts require us to reverse the way we prioritise action. Instead of treating the environment as an asset which we protect and invest in if we can afford to, adequately valuing Natural Capital demands that we protect and invest anyway and undertake economic activity if there is sufficient natural production to allow it.
At present such a change in priorities is many light years from becoming reality. However, there are some very real and very useful developments taking place. Not least of which is TEEB, The Economics of Ecosystems and Biodiversity; developing a framework for categorising and assessing the value of ecosystem services, ecosystem capacity and integrity.
New assets and technologies
New technologies and behaviours need to be designed and mainstreamed which work alongside and benefit from the way that natural production works, we suggest a few in our Natural Capital Asset Classes.
The GLOBE agenda is an exciting, essential and vital one. The issue of adequately valuing of Natural Capital should be put at the heart of Rio+20 and of legislators and it represents a meaningful step in valuing a living and productive home for our species.