Is time running out for a sustainable world?
The value of life lies not in the length of days, but in the use we make of them.
Michel de Montaigne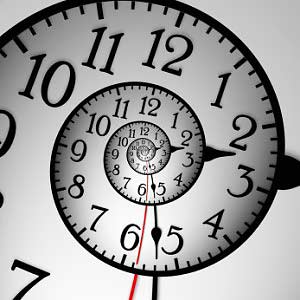 Every day we are assailed with bad news about the environmental and social challenges coming our way. By 2050 we are told, we will have many millions (even billions) of hungry mouths to feed and less food, water or fertile soil available to support them.
We are also constantly told that the time to take action is running out. The inertia of our current industrial and economic models means that, even if we chose to change course, we will be experiencing the negative after effects of current practice for years to come.
All of this bad news may well come to pass. But it may also be worth striking a note of optimism about the amazing capacity the human species has for creativity, innovation and hope. However, do we have enough time left to act?
We don't always have to think of time as a linear pathway towards the future. Many millions of years are lived by human beings every day – just imagine if we could harness and make use of that time …
Life in parallel
There are currently (March 2012) just under 7 billion people living on the earth. These 7 billion people live 7 billion days each diurnal cycle.
If we divide this number by 365, we find the equivalent number of years lived by the species every single earth day. Humanity lives 19,178,082 years every single day. That is a lot of time – surely some more constructive use could be made of it?
Looked at in this way, time is only running out if we decide not to make use of the abundant human time we have available each day on this Earth.
It's time to start thinking of radically different types of organisations and initiatives; those that can utilise and benefit from parallel time.
A thousand year per day organisation
This would mean that every organisation or initiative capable of coordinating the action of 36,500 staff or volunteers would be a 100 year per day organisation – making achievements possible that might otherwise take a whole century.
Similarly, 365,000 people working together could achieve a thousand years of activity in a single day, a 1,000 year per day organisation.
A different way of looking at time
This is not just a conceit; of course it is more difficult to achieve coordinated things in parallel than linearly.
However, what if it is not time that we lack but coordinated will and intent? What if this provides the seed of a more positive way of looking at the world and the future? What if the sheer number of people on the planet could be seen as an asset to build a sustainable home for our species?
It is sometimes difficult to look at the future with hope, perhaps it is time to look at the present as an abundant resource of time, just waiting to be used to deliver a sustainable future.