Even large organisations with serious sustainability ambitions may have only a few dedicated sustainability specialists. So how do they engage the people that matter to extend their influence?
Sustainability professionals need to work on getting the wider organisation on board to make sustainability a strategic priority. This requires a focus on the positions, roles, places and people that matter to core business activities.
Based upon what we've learned supporting different organisations over many years, we have developed a series of snapshot profiles of the key people who need to be part of leading, driving and embedding sustainability into the heart of the organisation.
Engaging with leadership – Sheila, the CEO
We all know CEOs are busy, we also know that they have many calls on their time and little concentrated head space for exploring and understanding complex issues.
Our profile of a company CEO, Sheila, is based upon real leaders we have worked with. To be clear though – 'Sheila' is an avatar, not a real person!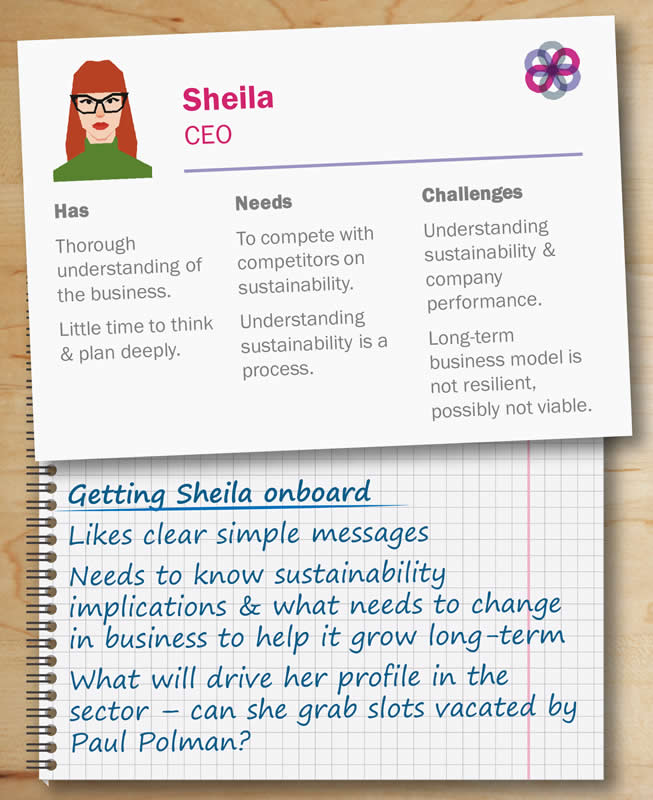 Getting through to the CEO
Most CEOs (massive generalisations coming up!) tend to be highly driven and time poor, they frequently don't have the time to read and digest nuance or complicated explanations, a 2-page briefing will be discarded while 6 key bullets on a slide might connect just right.
Often we find that leaders just haven't had the chance to see how sustainability aligns with and delivers wider business benefits. A successful approach to tackling this has been to design and deliver training sessions for leadership teams focused solely upon business value, risk and sustainability.
Sheila has so many calls on her time that she can struggle to be consistent. This means that getting her on board and driving sustainability requires consistency from her sustainability team. They need to produce business and value relevant reasons and opportunities so that she can see how sustainability will drive her business, not just manage at the margins.
Sheila also needs to understand the importance of corporate activism – acting as a public voice for sustainability and equity. Like many leaders, Sheila is passionate, she wants her organisation to stand for something, to be successful and to be a meaningful change agent in a fast-moving world.
If she was a real person she may well have recently signed the Business Roundtable's Statement on the Purpose of a Corporation.
However, while Sheila is motivated by the idea of corporate purpose, long term stewardship and personal legacy, she is also driven by the need to perform in the short term. Getting Sheila on board with sustainability means that she has to understand and be passionate about how true sustainability can drive innovation, build business resilience, reduce risk and frequently deliver financial out-performance.
Moving from people to culture
Of course, understanding how to get the right people on board is only part of the challenge of successful sustainability management. The ultimate goal for an effective sustainability professional is to weave sustainability ambition, commitments and management within the culture, priorities and processes of the whole organisation.
DISCOVER MORE | Sustainable Business Skills
Engaging leadership in sustainability is vital – even in a large organisation with dedicated sustainability specialists. To ensure that sustainability becomes and remains a strategic priority, sustainability professionals need to work hard to get the organisation on board. You need to start with the …